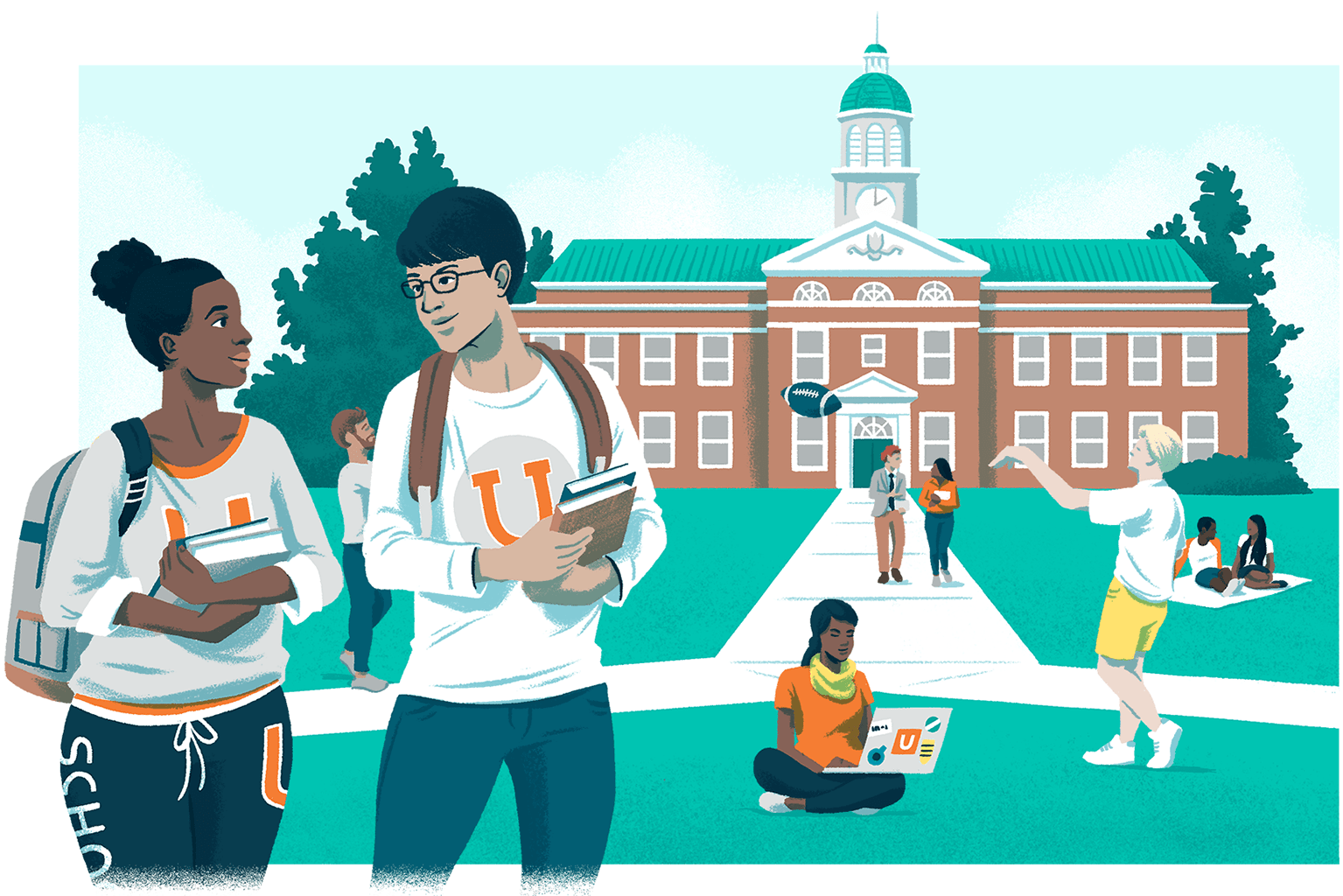 We live in the XXI century. We have numerous opportunities for studying abroad after schooling. And while some are only dreaming, others are taking matters into their own hands and changing their lives. However, if you are a newbie in this area, it may be challenging for you to choose the right country for studying and living. The thing is that the Western educational system differs from the education in East Asia. The main feature is the focus on learning how to be independent and the development of personal identity. 
In this comprehensive post, we'll take a closer look at this issue and analyze the key features of the educational processes in different countries. So, get comfortable and keep reading!
Features of the educational process in the
western education system
When it comes to Western higher educational establishments, we need to mention that this system is student-oriented. The main goal is the development of such skills as critical thinking and problem-solving. Students choose optional subjects themselves, and they may not be related to the main specialty. 
The basis of education at Western universities is group classes, seminars, and discussions. This is where students listen to lectures and learn to argue their positions. The teacher's opinion is not the ultimate truth. You can argue with the teacher and have the right to disagree.
At the same time, students extract the basic knowledge themselves – from scientific literature while preparing their projects and writing essays. The university rather guides the student and provides all the necessary resources. Independent work here is sometimes even more important than classroom hours.
A mixture of discussion and independent class formats develops critical thinking and soft skills. These are communication skills, information retrieval, time management, and problem-solving. 
In many bachelor's programs, practice is an obligatory part of the educational process added to the curriculum. Without it, the program simply cannot be completed. 
🍎 Features of
education
in the USA 
According to all world rankings, education in the United States of America takes a leading position. The education system in the United States has long traditions and well-established canons, but, despite this, it is recognized as the most democratic. 
Features of the educational process
The US higher education system is characterized by great freedom. During the first two years, a student can take almost any course offered within the walls of an educational institution. The only requirement is a sufficient number of earned "credits" (credits), which the student receives for successfully mastered disciplines. During the 3rd year, you need to choose the main area of ​​your professional interest. Students are free to form their curricula. However, it is possible to obtain the rarest specialties at the intersection of various professions in the United States.
One of the most exciting features of the US higher education system is the flexibility it offers through the diversity of institution types it includes. Due to this, students have a chance to specialize in many academic disciplines and get employment training.
In addition to usual lectures and seminars, students of American universities have to spend a lot of time preparing creative projects. Often they are performed not individually, but by a group of students.
Tuition fees
Prices for higher education in the US start at $15,000 per year at a college and $25,000 per year at a university. 
🍁
Features of
education
in Canada
Canadian education is characterized by a balanced combination of European traditions and North American pragmatism. 
Higher education programs, as elsewhere in the world, provide the following degrees: Bachelor (3-4 years of study), Master (+ 2-3 years), Doctor (+ 4 years). You can get all these three degrees while studying at Canadian universities. Bachelor's and Master's degrees can be obtained at colleges. 
The most attractive features of Canadian universities are practical orientation and high levels of funding. The thing is that there's no national system of higher education here. In general, 13 systems are adopted in Canadian provinces. All these universities are controlled by provincial legislation and in terms of academic matters, they are autonomous in choosing programs.
A common scheme for studying at Canadian universities includes lectures and seminars at the university in parallel with a paid internship (they begin from the 2nd year).
The academic year is divided into two semesters, the beginning of studies - in September, and the end of the year - in June. At the end of December (2 weeks) and summer (2 months) - holidays. However, students have the opportunity to study without interruptions, thus, the period of study is reduced.
Tuition fees
Tuition fees for international students start at CAD 13,000 per year and can go up to CAD 50,000 for a top university program.
💂 Features of
education
in the UK
High standards, deep historical roots, and advanced educational technologies are the main distinctive features of the education system in the UK.
Higher education in the British universities is divided into:
preparatory programs (

Foundation

or International Year One);

undergraduate;

magistracy;

postgraduate education.
One of the most common and proven ways to successfully enter a British university is to take a preparatory program. Most programs start in September or January and include workshops, lectures, and project activities. During the preparatory classes, applicants also undergo intensive preparation for entrance exams and a language program aimed at improving their English proficiency. 
Bachelor's and Master's
Studying at a British university includes seminars, lectures and master classes. In the process of learning, students take tests, write essays and complete term papers. At the end of the semester, there is a final exam. Depending on the educational institution, knowledge is evaluated either by points or by percentages.
Bachelor's degree lasts 3 years, in some cases 4 (depending on the chosen direction). In the learning process, the emphasis is on obtaining a complete understanding of the subject and field of study. At the end of the course, the student must create a thesis project. Upon graduation, graduates receive a Bachelor of Science (BSc), Bachelor of Arts (BA), Bachelor of Engineering (BEng), Bachelor of Medicine (BM), Bachelor of Education (Be) degrees, depending on the discipline studied. 
A master's degree usually takes 1 year to complete. Assessment of knowledge is carried out with the help of an exam, dissertation, or project.
Upon graduation, graduates receive a diploma with a Master of Arts (MA), Master of Science (MSc) or Master of Laws (LLM) degree.
Cost
The cost of higher education in the UK is largely dependent on the ranking of the university. On average, prices range from £10,000-£25,000 per year.
🐨 Features of
education
in Australia
Higher education in Australia is based on the British system of education. But at the same time, it has a number of features related to the university management system. Its main feature is the availability of a unique system of qualifications, Australian Qualification Framework, AQF, which includes secondary, vocational, and higher education.
Higher education in Australia is not only about lectures and seminars. First of all, it is a research activity and the development of practical experience.
Beyond this, you need to bear in mind that studying in Australia is slightly different from studying in Europe:
it takes 3 years to complete a bachelor's degree;

magistracy lasts for 2 years, but upon receipt of a bachelor's degree with honors - 1 year. It is divided into 3 options: professional, with a dissertation defense, research (with a dissertation defense);

Doctoral studies are divided into professional, which takes about 2 years, and scientific, which takes 3 years to write a dissertation.
Cost
On average, the cost of bachelor's programs at Australian universities is AUD 16,000 - 20,000, master's - AUD 20,000 - 25,000.
🏰 Features of
education
in Europe
The system of higher education in Europe is considered one of the best in the world. Let's take a closer look at some of the key features:
Bologna system. It was created to make

Europe

a single space with similar educational levels and principles.

A two-level system of

higher education

- the first stage (VA, bachelor) lasts 3-4 years and allows you to work in your specialty, and take high positions. For scientific activity/teaching, it is necessary to obtain Mag., Ph.D., Dr.

Credit-module system: a student gains a specific number of credits at each educational stage.

The European Credit Transfer System (ECTS) promotes student mobility. 
Cost
The prices for higher education in Europe vary depending on degrees. A Bachelor's degree costs may reach up to 3,500 EUR per year. The tuition fees for Master's programs may reach up to EUR 7,000.  It all depends on the country, the university, and the opportunity to get scholarships.
In Germany, the Czech Republic, Poland, Finland, France, and Austria, education in state universities in the local language is free. Only the registration fee is charged (between €50 and €1000). But the applicant must know the state language of the country of study.
The most expensive European higher education is in Denmark, Ireland, Sweden, and Switzerland. In some undergraduate and graduate programs, the cost of education can reach €50-60 thousand per year.
Comparative table of education system in the USA, UK, Canada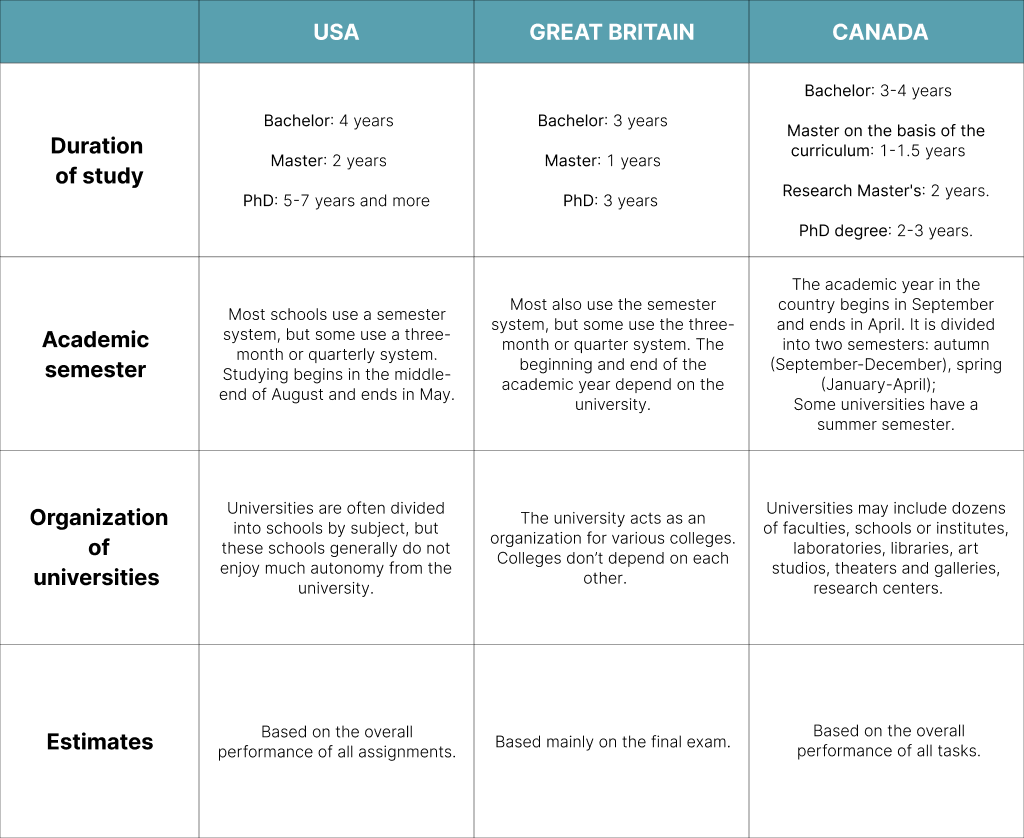 Your Chance to Grow
Let's sum up what has been said about higher education in different countries. We can see that Western education features numerous benefits: an individual approach to learning, a practical component, the development of soft skills, discussions, etc. The main disadvantage is a too high tuition fee. But in any case, Western education is worth fighting for as it gives lots of job opportunities!