Exemplification essay is simpler than the name implies because it is an argumentative assignment with a clear difference. As an example, if Environmental Sciences student chooses to write about volcanic ash dangers, it is not enough to tell that it is dangerous or represents a health hazard. In this particular essay type, it is obligatory to offer more than one evidence to explain why or how exactly it is dangerous. When talking of air traffic disruptions, as one of the reasons, remember to provide statistics, evidence, news reports references, and so on. We recommend avoiding broad topics or subjects that cannot be supported with strong argumentation. Choose something that motivates you or have a look through our exemplification essay samples.
As one of the most frequent topics that you will encounter as a college student, an exemplification essay is a type of writing where you should talk about examples related to some topics. For example, you should talk about some processes where you provide an explanation and estimate various exemplification examples. Before you look into several ideas, you must remember that there should be an argumentative statement. As an alternative, you may say that Metallica is the best metal band out there. It would be insufficient to state so without any proof, which is why you should provide examples. Some other topic that you may choose would be turning to a personality where you talk about qualities. When you provide an argument about why someone is honest, you provide examples. It's the reason why it's called an exemplification. 
Before turning to a study of exemplification essay topics, you should turn to essential structure parts that must be there in your essay: 
An introduction with a statement argument. 

Your additional thesis statement where you provide some analysis with your objectives. 

At least three paragraphs where you provide exemplification from the easiest to the most complex. It should be done this way. Even the most complex ideas will have to start from something that's more accessible before getting to those pieces of evidence that require some reading. 

An analysis paragraph where you include various counter-arguments. Add some sources that will help to explain your thoughts. 

Your conclusion paragraph where you sum up your exemplification examples. 
Exemplification essays have unique characteristics that set them apart from other types of essays.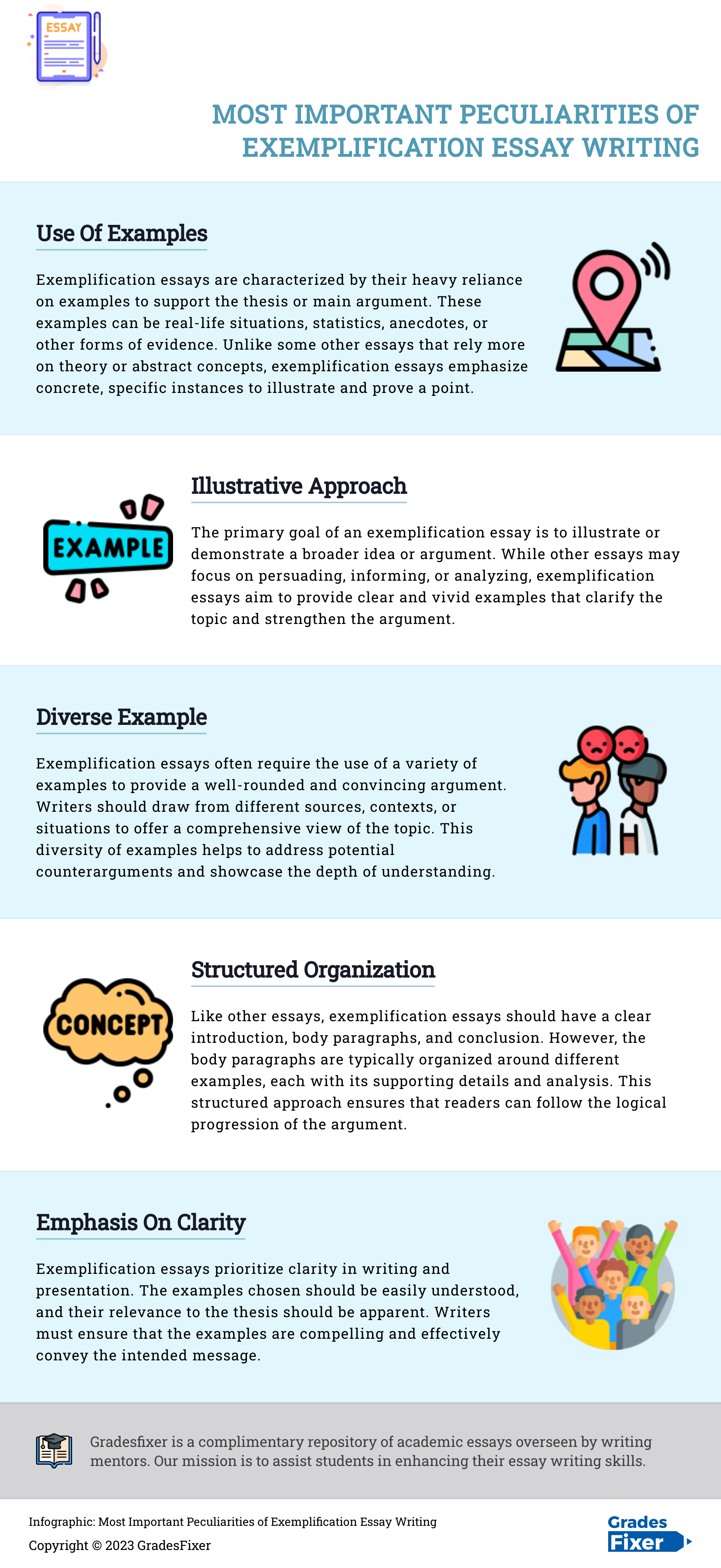 In summary, exemplification essays stand out due to their heavy reliance on specific examples to illustrate and support arguments. They focus on providing a clear and illustrative approach to complex topics, using diverse examples and maintaining a structured organization to ensure clarity and persuasive power.
Don't forget to check our exemplification essay examples and have a look at our exemplification checklist that will help you make sure that nothing has been missed! 
Make sure to provide some examples before you start writing.

Provide an argument that you place in the introduction part.

Offer some evidence if it's necessary.

Start from the most accessible example before proceeding with the challenging arguments.

Provide background information if it is necessary. (If something belongs to those aspects that are not covered by your course, add information that will make your essay structure clearer for the general public.)

Keep your essay in an explanatory tone.
Keep your examples realistic and remember to stay honest by choosing those examples that are valid and verified. The same relates to the sources that you use, which helps to keep things reliable!